When shopping for your next vehicle, safety should be your number one priority. That's why Peake in Wayne County provides safety reviews for every vehicle in our inventory. Our safety reviews discuss the standard security features, available road monitoring systems and crash test scores for every Dodge, Chrysler, Jeep and RAM in our inventory. That way, drivers in Sodus, Webster and Wayne County can have peace of mind when they purchase their next vehicle.
Each of our safety reviews are posted below. Here's what you can expect to find in each one:
Standard Safety Features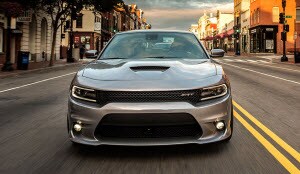 Every car in our inventory comes with dozens of safety features to give you peace of mind. We'll go over some of the most innovative features our vehicles have to offer and how they keep dangerous situations at bay on the road in Sodus, Webster and Wayne County. 
Advancing Safety
Several vehicles in our inventory offer advanced road monitoring technologies to prevent accidents. Some of these include blind spot monitoring, rear parking assist, lane keeping assist and rear vision cameras.
Most of these options work like an extra set of eyes that help you avoid accidents. Others alert you if a collision seems imminent. These road monitoring technologies keep danger at arm's length, helping you drive confidently.
Crash Test Scores
Along with safety features, our reviews go over crash test scores from the National Highway Traffic Safety Administration and Insurance Institute for Highway Safety. Several of our vehicles received distinguished crash test results across the board, which you can feel good about when transporting your most precious cargo. 
Putting Your Safety at the Forefront
When shopping for your next vehicle, passenger protection is an important factor to take into consideration.  Whether you're considering a RAM, Chrysler, Jeep or Dodge, our safety reviews can help you find a vehicle you feel comfortable with.
Read our safety reviews to learn more about the vehicles you're interested in. If you want to try them out for yourselves, stop by Peake in Sodus to take a test drive. We're conveniently located at 49 West Main Street, Sodus, New York, 14551, and are here for each of your automotive needs. Have a question? Please contact us online or by phone at (877) 270-4862.
Vehicle Safety Features
Chrysler
2017 Chrysler Pacifica Safety Features
2016 Chrysler 300 Safety Features
2015 Chrysler 200 Safety Features
Dodge
2016 Dodge Dart Safety Features
Fiat
2017 Fiat 500X Safety Features
2017 FIAT 500 Safety Features
Jeep
2016 Jeep Cherokee Safety Features
2016 Jeep Grand Cherokee Safety Features
2015 Jeep Wrangler Safety Features
Ram