2017 FIAT 124 Spider Review
As much as practicality rules the road today in the form of sedans, fuel-efficient compact cars and crossover SUVs, there really is nothing like the feeling of being behind the wheel of a sleek, fast and aggressive sports coupe. Among the most stylish sports car designers out there is Fiat, who are known for their small-sized, sharp-profile roadsters.
Ever since the early 80's the Fiat Spider 124 roadster has been a drool-worthy entry into this sector. In 2017, the little Spider 124 makes a comeback in a big way for drivers in the Ontario, Wayne County, and Sodus areas. Read a review of the 2017 Fiat 124 Spider, its tech, performance and comfort features, and learn when you can get behind the wheel for a test drive.
2017 Fiat 124 Spider Technology and Trim
The new Fiat Spider comes in three style and trim levels: the base Classica level, the Lusso, and the Abarth trims. A limited edition Edizione version will also be available, but only 124 of these are being made.
The base Classica comes standard with retractable manual soft top roof and glass rear window, 16-inch alloy wheels, push-button start, LED tail lights, height-adjust driver seat, power accessories, Bluetooth connectivity, cruise control, USB and auxiliary jacks, and 3-inch display for the six-speaker sound system. A technology collection gives you keyless push-button entry, an extra USB port, rear view camera, HD radio and 7-inch touchscreen interface.
Higher level trims add such features as automatic adaptive LED headlights, automatic wipers and climate control, heated seat, upgraded upholstery, fog lights, upgraded exhaust, suspension, and performance. Adjustable driving modes improved upholstery including leather options, nine-speaker Bose audio and more.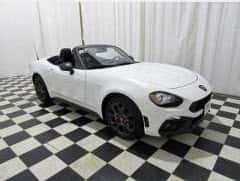 Performance and Safety
Let's face it-performance is where it's at when it comes to a two-seat roadster like the 124 Spider, and while the base numbers may not seem overly impressive, they do deliver when one considers the small size and light weight of the vehicle. The rear-wheel drive roadster is driven by a 1.4-liter four cylinder that delivers 160 horsepower and 184 ft-lb of torque.
It comes with a six-speed manual transmission, though an automatic with paddle shifters is optional. The EPA-estimated fuel economy is fairly impressive at well, sitting at a combined 30 mpg.
Standard safety features include antilock brakes, airbags, traction and stability control and an available rearview camera. Optional add-ons at higher trims include blind spot monitor, rear cross-traffic alert, and parking sensors.
Driving Experience
The new Fiat Spider is built on a Mazda Miata, making it light, sleek and aerodynamic which helps to deliver a smooth and confident ride. The engine puts out plenty of torque to create confident acceleration and the steering is agile and precise. It also includes outstanding sound dampening technology to mitigate road noise and keep your experience serene even when roaring down the highway.
For fans of Fiat, the Spider, or roadsters in general, the new 2017 Fiat 124 Spider is sure to impress. If you live in the Wayne County, Sodus and Ontario regions and would like more information, stop into Peake in Wayne County or contact us online to find out when you can get behind the wheel!