2017 Jeep Compass Review
Fiat Chrysler Automobiles (FCA) recently revealed the redesigned 2017 Jeep Compass in an unexpected press release. Rather than revealing the midsize SUV at the New York Auto Show like many expected, the company chose to highlight the Compass' country of origin, with a press packet of photos taken near Jeep's Goiânia, Brazil manufacturing plant.
FCA intends to tell the North American market more about their version of the Compass at the Los Angeles Auto Show in November. In the meantime, we can show Sodus, Wayne County, and Ontario drivers what to expect in the new 2017 Jeep Compass.
Bolder Styling More in Line with the Jeep Image
The current Jeep Compass is a handsome vehicle, but many wish that the model had more cues in line with its sister models and the Jeep lineage as a whole.
Answering these concerns, the 2017 Jeep Compass has a definitively unique, appealing, and well-rounded look both figuratively and literally while taking some of the most popular styling cues from the Grand Cherokee. A wide, well-proportioned stance sets the model apart from many crossover cohorts while channeling Jeep's burly reputation. Gentle curves on the front grille and rear-wheel fender flares balance this pseudo-boxiness with a futuristic and smoothly aggressive image.
A unique canopy window shape and iconic boxy grille inserts characterize the 2017 Compass while reminding drivers of Jeeps both current and past.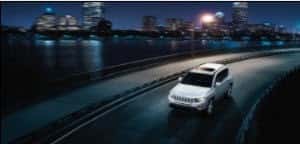 True 4×4 Capability in an Economical Engine
The new 2017 Jeep Compass will offer a choice between a turbocharged 2.0L inline four-cylinder engine and a more potent, naturally aspirated 2.4L inline-four engine. All powertrains will be mated to the Chrysler group's sophisticated ZF nine-speed automatic transmissions. These transmissions have been widely praised by auto journalists for their wide power band and smooth shifts.
Standard Compasses will offer front-wheel drive, but Jeep expects the four-wheel drive version to be a popular choice. Also, while the brand has yet to confirm this officially, chances are great that a fully upgraded, off-road-ready Trailhawk® version could release either in 2017 or years to follow.
Overall, the Compass rides upon a stretched version of the Jeep Renegade platform that optimizes stability and handling as key aspects of ride comfort.
Interior Elegance
The next Jeep Compass will improve significantly on its predecessor in terms of interior styling. Quality materials and smoothly sculpted dash and door forms characterize the welcoming, comfortable interior of the 2017 Compass. A standard shifter replaces the T-style shifter seen in some models past, and options will include a variety of stunning two-tone interior color schemes.
Test Drive a 2017 Jeep Compass
The 2017 Jeep Compass has now arrived for Sodus, Wayne County, and Ontario drivers to get a personal look. Book a test drive at Peake CJDRF today!