2018 Chrysler Pacifica Review
For Sodus, Wayne County, and Ontario families in need of a dependable automobile, a minivan is a consistently popular choice, and in 2018, the only minivan that your family should consider is the Chrysler Pacifica.
Known as one of the best models in the minivan class, the Pacifica is back with even more features and a better performance, making it a great choice for your next family vehicle. Read this 2018 Chrysler Pacifica review to learn why you should drive this minivan, and take a look at some of the features of this vehicle.
Hybrid Driving System
One of the biggest benefits of choosing the new Chrysler Pacifica is having access to the first hybrid system ever placed in a minivan. This means that the Pacifica is the perfect vehicle for families looking for the right combination of performance and efficiency.
By combining gas and electricity, the 2018 Pacifica provides an EPA-estimated fuel efficiency rating of 84 MPGe,* meaning you can finally wave goodbye to expensive fuel costs. When driving the Pacifica using only electricity, you'll have a driving range of 33 miles. The total driving range of the Pacifica is 566 miles, making it simple to plan long road trips with your family.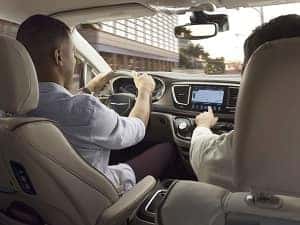 Chrysler Pacifica Interior
Whether your family is large or small, you want to be certain you're choosing a vehicle that offers enough interior space and features to meet your needs. Fortunately, the 2018 Chrysler Pacifica interior is one of the best in the minivan class and needs to be seen to be believed.
The Pacifica provides seating for eight passengers, and both the front- and second-row seats provide optional heating. The third-row seats are available with power-folding ability. Plus, the Pacifica Stow 'n Go® Seating and Storage System allows you to quickly choose between cargo storage and seating, giving you the best of both worlds.
Minivan Safety Features
The final section of this 2018 Chrysler Pacifica review is dedicated to safety, which is the most important feature that a family vehicle can offer. When you take your family for a drive in the Pacifica, you'll have complete peace of mind.
To help prevent a serious accident from occurring, the 2018 Pacifica is available with a Full-Speed Forward Collision Warning Plus system that warns you before an impact occurs.
Furthermore, because accidents are so common in tight spaces, such as parking lots, this minivan comes standard with a ParkSense® Rear Park Assist with Stop that uses sensors to identify obstacles and then alert you so that you can avoid a collision.
Ride in the 2018 Chrysler Pacifica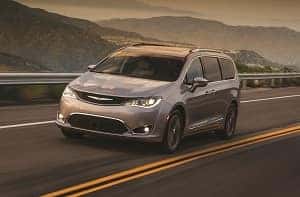 Now that you've finished reading this Chrysler Pacifica review, it should be easy to see why this minivan deserves the consideration of every family looking for a new vehicle. To take the 2018 Chrysler Pacifica for a test drive, you need to visit Peake Chrysler Dodge Jeep Ram FIAT.
For automotive consumers in Sodus, Ontario, and Wayne County, there's no dealership more dependable than Peake Chrysler Dodge Jeep Ram FIAT. The vehicles in our inventory are feature-rich, affordable, and reliable—the trifecta that you should be looking for in your next automobile. Contact us today so that our professionals can show you the Pacifica and our other models.
*EPA-estimated 84 MPGe (miles per gallon of gasoline equivalent). Actual mileage may vary.