Chrysler Dealer Fulton NY
Fulton, NY
Fulton is a small city in upstate New York celebrated for its nearby ski resorts, dynamic hiking and biking trails, and proximity to Syracuse University, which is just 30 minutes south. Fulton is also home to Thunder Island, one of the biggest water parks in upstate New York, and is about an hour from the Finger Lakes and resort towns such as Webster, NY.
The Oswego River slices the city in two before it meanders northward, eventually spilling into the mouth of Lake Ontario. With such varied geographic features, Fulton and its surrounding towns attracts outdoor enthusiasts season after season.
A Critically Acclaimed Dealership
Maybe you see yourself in a luxurious and smooth-riding sedan or SUV. Perhaps you're the type who prefers to put the pedal to the metal in a new sports car convertible.
No matter what you revs your engine, Peake CJDRF offers an expansive catalog of top-of-the-line new Chrysler, Dodge, Ram, and Jeep & FIAT vehicles, such as the Chrysler 200 Limited Sedan or the Chrysler 300C Platinum Sedan. Additionally, Peake CJDRF offers an extensive selection of pre-owned vehicles.
Customer satisfaction is Peake CJDRF's first priority, and it shows through the sales team's dedication to excellence. Last year marked Peake CJDRF's 20th year of providing safe, efficient, and quality vehicles throughout the community, and it promises to uphold its respected reputation.
It was even awarded the Five Star Award for its superior service throughout Wayne County, Ontario, and Webster-an honor reserved only for Chrysler's top dealerships. Peake CJDRF will work with you to find the best car for your needs and budget.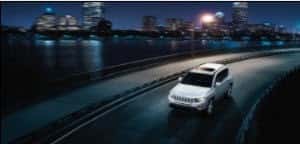 Peake in Wayne County Parts and Services
Aside from its superior dealership, Peake CJDRF's team of certified technicians is available to diagnose any issues your car may be experiencing. Express Lane Service for fast oil changes and services doesn't require an appointment.
Basic routine maintenance, including oil changes, tire rotations, and brake services, are available, as are engine tune-ups, vehicle detailing, transmission maintenance, and battery maintenance.
You can contact Peake CJDRFs' Parts & Services Center to schedule a servicing appointment.
Driving Directions from Fulton, NY to Peake CJDRF, Inc.
Follow Hannibal Street in Fulton to NY 3 in Granby for 1.7 miles. Get onto NY 104 and continue onto Ridge Road in Sodus for 34.3 miles. Continue onto Ridge Road and drive to East Main Street in Sodus for 1.6 miles. Lessord Chrysler Products, Inc. will be on your left.
If you're interested in purchasing a new or pre-owned vehicle from Peake CJDRF in Wayne County, schedule a test drive with them today.