Chrysler Dealer Seneca Falls NY
Seneca Falls, NY
Seneca Falls may be a small, tight-knit community in Upstate New York, but it's also home to a beautiful landscape and a rich history. Seneca Falls hosted the first women's convention in the United States and was central to attaining equal voting rights in this country. The town boasts dozens of museums and parks commemorating this heritage and remains a popular tourist attraction for American history buffs.
Along with its historical sites, the Seneca Lake Wine Trail features 35 wineries on Seneca Lake's clean, untainted shores, attracting thousands of tourists from across the country each year. Between its bucolic scenery and comfortable downtown area, Seneca Falls has something to offer for everyone.
Stop by Peake in Wayne County
If you're shopping for a Chrysler car, truck, or SUV, Peake CJDRF is a top-notch Chrysler dealership near Seneca Falls with a full inventory and a passionate sales staff. Stop by our dealership to take a tour of our state-of-the-art showroom or test drive the next time you're considering a new vehicle.
At Peake CJDRF, we're dedicated to customer service and your satisfaction. We want you to find the perfect car for a competitive price in a low-stress, hassle-free environment. Shopping for a new car is overwhelming enough, but we'll be in your corner every step of the way. Anytime you have any questions, feel free to stop by our showroom to speak with one of our sales representatives.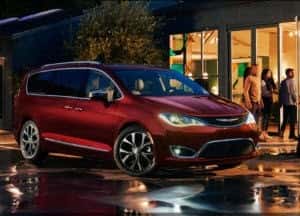 Financing Your Chrysler with Peake CJDRF
We know that you have several options to consider when you buy or lease a Chrysler. That's why Peake CJDRF offers the resources you need to come up with an affordable payment plan. Whether you have good, bad, or no credit, Peake CJDRFs' team of financial consultants will get you the best deal possible so you can afford your car.
Test Drive a Chrysler at Peake CJDRF Near Seneca Falls
The next time you're shopping for a new or pre-owned Chrysler vehicle, stop by Peake CJDRF to look through our expansive inventory. We'd love to give you a tour of our showroom before you take a test drive!
You can reach the Peake CJDRF sales department at 877-270-4862 to schedule your test drive or you can walk into our showroom between 8:30 am and 7 pm Monday, Tuesday, and Thursday; 8:30 am to 5 pm Wednesday and Friday; and 8:30 am to 3:30 pm Saturday.