Chrysler Pacifica vs Honda Odyssey
Minivans have always been considered family vehicles, and it's true that they're still made with that idea in mind. Of course, it's no secret that older models weren't the most attractive cars on the road.
Fortunately, modern style redesigns have made these family haulers much more impressive to look at. This, along with performance updates, innovative safety features, and information technology, can certainly rekindle interest in this familiar type of car.
Peake CJDRF, serving the Sodus, Wayne County, and Webster areas, wants to compare two rival minivans on the market now: the 2017 Chrysler Pacifica vs. Honda Odyssey.
Power
When carrying plenty of passengers and cargo, choosing a car that won't sweat added weight is important. The 2017 Chrysler Pacifica is more powerful than the 2016 Honda Odyssey and will win out in this aspect. The Honda Odyssey turns a little better, but it's also more likely to strain itself uphill or while hauling larger carloads.
Both the Odyssey and the Pacifica come standard with two-wheel drive, but the 2017 Chrysler Pacifica is more capable of converting its superior power into torque and acting on its wheels. Considering that the entire purpose of a minivan is to move larger numbers of people and cargo, the Pacifica's added power means that it's better at serving this primary purpose.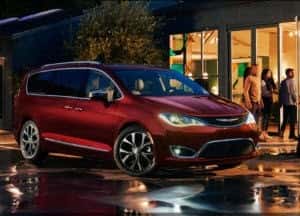 Comfort
Most people would agree that if you're going to fill a van to capacity with occupants, you should be comfortable while doing it. Whether it's taking the family on long road trips or simply to school, spaciousness and seating arrangements are important aspects of a comfortable ride. Taller front passengers, like parents, will find themselves favoring the Chrysler Pacifica for the added head- and legroom.
However, passengers in the back two rows of the Honda Odyssey will enjoy an extra bit of stretching space. Parents with younger children may prioritize the added front space in the Pacifica, whereas parents of ever-growing teens may want to provide them with more space in the back. Either way, both cars fit eight people comfortably.
Optional Features
Higher trim levels of the 2017 Chrysler Pacifica include quite a few interesting features that parents will find both useful and reassuring. Both models offer excellent safety options like 360-degree monitoring and collision and lane departure warnings.
For long trips where entertainment is needed, Chrysler offers the Uconnect Theater, which is touch activated and versatile.
Another added bonus of the Pacifica is the Stow 'n Vac, which will help to keep the interior of your car looking like new, making it easy to address daily messes quickly. This combination of features makes the 2017 Chrysler Pacifica an ideal vehicle for large families.
Schedule a Test Drive
Peake CJDRF encourages those in Wayne County to test out the Chrysler Pacifica for themselves. Getting a feel for the vehicle personally is a great way to put to rest any concerns you may have before you buy. For sales information, contact Peake CJDRF, serving Sodus, Wayne County, and Webster, today.