Dashboard Symbols
As a responsible car owner, you want to make sure your vehicle is running the way you need so you can get around Ontario, Sodus, and Wayne county with the greatest of ease. While there are several ways you can keep your Jeep or Chrysler vehicle up and running, one of the best ways is to understand the warning lights that you're likely to see on your car's dashboard.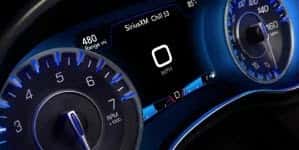 Because modern vehicles feature many more lights than older models, Peake Chrysler Dodge Jeep Ram FIAT (CDJRF) has provided this page so you can find light guides for some of our most popular Ram, Chrysler, Jeep, Dodge, and FIAT vehicles. Read about the importance of deciphering your vehicle's dashboard lights and discover how you can get the service and maintenance your car needs when one appears while driving.
2019 Jeep Cherokee Dashboard Light Guide
2017 RAM 1500 Dashboard Light Guide
2017 Chrysler Pacifica Dashboard Light Guide
2017 Jeep Grand Cherokee Dashboard Light Guide
2017 Jeep Cherokee Dashboard Light Guide
2017 Dodge Charger Warning Lights
2017 Dodge Challenger Warning Lights
2017 Dodge Durango Dashboard Light Guide
2017 Jeep Renegade Dashboard Symbols
Understanding Dashboard Lights
The thing that many car owners don't understand about their dashboard warning lights is that they don't always indicate a serious problem. In fact, dashboard lights come in a wide range, with some reserved for the most major issues that your car could face and others that simply indicate that your car is functioning as it should. Fortunately, thanks to this Peake CDJRF dashboard light guide page, you'll always know when your car needs service.
By reading a dashboard light guide for your Sodus, Wayne County, or Ontario vehicle, you'll get two big advantages. First, you'll have total peace of mind that only results from knowing exactly what's wrong with your vehicle. Second, when there's an inevitable problem with your car, you'll know what level of maintenance you should seek.
Having access to a vehicle light guide for your car is the best way to make sure your vehicle stays on the road for hundreds of thousands of miles to come.
Ask Your Light Guide Questions in Person
The next time you're in your vehicle and a warning light comes on, you'll know precisely what to do, thanks to the wide selection of vehicle light guides provided by Peake CDJRF. If your car needs maintenance, or it's time for a regular service check, then you need to make sure to bring your car to Peake CDJRF so your car can get attention from our experienced and knowledgeable service and parts department.
Have a light that needs fixing now? Schedule your service appointment today!