Dodge Charger vs Challenger
Two of the most iconic muscle cars in modern history fall under Dodge's moniker: the Charger and Challenger. One's a sporty coupe and the other's a sedan, but each offer bold designs and performances screaming old-school cool.
For most drivers around Sodus, Wayne County, and Ontario, choosing between a coupe and sedan is a no brainer. That's not necessarily the case with the 2017 Dodge Challenger and Charger as each provide athletic performances, bold designs, and innovative gizmos and gadgets.
Peake Chrysler Dodge Jeep Ram Fiat puts the Dodge Charger and Dodge Challenger on trial in the following comparison to make that decision easier. Before putting their muscle to the test, keep reading to learn about their hot-rod designs and powerhouse performances.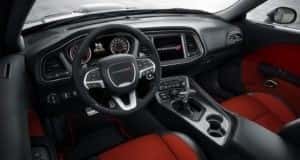 Dodge Muscle Car Designs
No car on the road looks quite like the Dodge Challenger or Charger. Each is aggressively styled with retro, sporty exteriors and sharp accents, but several key differences set the Charger and Challenger apart from each other.
First, the 2017 Charger's a two-door sedan with chiseled side scallops, an available LED racetrack taillamp, and Dodge's signature crosshair grille. The Charger's also noticeably bigger than the 2017 Dodge Challenger, a two-door sports coupe with a square-ish hood, muscular haunches, and an available full-width rear LED split tail lamp.
Compared to the Charger, there's something nostalgic about the Challenger's lean frame and 70s-inspired design. A living legend in its own right, the Challenger's rugged, retro exterior hearkens back to the era of eight-track tapes, Apollo 13, and the Rolling Stones. The Challenger's harder edge may be too much for some, but you can't ignore the legendary spirit its classic, cool design embodies.
Charger vs. Challenger Interior
When you climb inside a 2017 Dodge Challenger or Charger, you'll find a driver-centric cockpit outfitted with premium upholstery and technology that dials in your world, including an available Uconnect° media hub.
Each is spacious and comfortable, though the Dodge Challenger only provides space for four passengers. The Charger sedan seats five and provides a spacious backseat, and may be a more practical option for families.
Hell-Raising Performance
In terms of performance, few muscle cars can contend with the 2017 Dodge Challenger or 2017 Charger-especially when equipped with the supercharged Hellcat 6.2L HEMI® SRT V8 engine.
Dodge's Hellcat unleashes up to 707 horsepower and 650 lb-ft of torque for an undeniably heart-pounding, hair-raising performance. Available exclusively on the Charger and Challenger, the Hellcat pushes performance to the limit with unrelenting acceleration and muscle.
The Hellcat is certainly one-of-a-kind. If it's too much for your daily driving needs, however, the Charger and Challenger have several other engines to choose from.
Each is equipped with a 3.6L Pentastar® V6 in standard configurations. The Charger's boosts 300 horsepower, while the Challenger gets 305 horsepower. Whether you're driving around town or gunning it down the highway, each deliver a smooth and satisfying ride with plenty of power.
Dodge Charger vs Challenger – the Verdict
The 2017 Dodge Charger and Challenger are two of the hottest sports cars on the road. If you're in the market for a Dodge muscle car around Sodus, Wayne County, or Ontario, the only way to know whether the Challenger or Charger is best for you is to get behind the wheel.
Schedule duel test drives of the 2017 Dodge Challenger and Dodge Charger at Peake Chrysler Dodge Jeep Ram Fiat to try their performance and capabilities out for yourself.