Dodge Durango Dashboard Symbols

Contact UsView Durango Inventory
Are you wondering what the heck the 2017 Dodge Durango warning lights even mean? Check it out…
Instrument panel warning lights are intended to indicate automotive problems before they pose a danger to drivers, passengers, or pedestrians. The 2017 Dodge Durango dashboard symbols indicate everything from minor issues (such as parking brakes) to serious problems (such as an engine malfunction).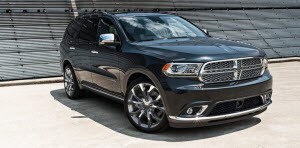 If you notice any active warning lights on your 2017 Dodge Durango, you can head to Peake Chrysler Dodge Jeep Ram FIAT right away. Our expert Mopar® service technicians can take care of anything.
Dodge Durango Dashboard Lights: General Categories
Yellow lights: Yellow warning lights on the 2017 Dodge Durango typically indicate minor problems like low gas, an upcoming oil change, an all-wheel drive issue, or some other service need. Many of these do require the assistance of a professional mechanic; however, they're not a huge threat to your safety.
Red lights: Red warning lights include the electric power steer fail warning, the door open warning, the hood open warning, the liftgate open warning, etc. You should resolve any of these prior to operating the vehicle, or else you could be putting yourself, your passengers, and any pedestrians in danger.
2017 Dodge Durango Warning Lights: Specific Symbols
Malfunction Indicator Light (MIL): This is the infamous check engine light, and that's exactly what it looks like: an engine. If it comes on, take your Durango to a professional immediately.
Electronic Stability Control (ESC) Malfunction Indicator Light: Your ESC system contributes to your SUV's traction and overall performance. If this light stays on while the engine is running, then the ESC system could be compromised. It looks like a swerving SUV.
Battery Charge Warning Light: An illuminated battery icon (complete with a negative terminal and a positive terminal) means that your battery isn't charging properly. You want your vehicle to start, right? If so, then you better take it to a certified Mopar® technician as soon as possible.
Anti-Lock Brake System (ABS) Light: When the Anti-Lock Brake System isn't working correctly (indicated by the acronym ABS within a circle and parentheses), your conventional brakes will still work; however, you don't want to go without the added stopping power of your anti-lock brakes.
Electronic Throttle Control (ETC) Light: This symbol looks like a lightning bolt within a set of backwards parentheses. Your Dodge SUV will still drive, but you'll want to bring it in for service.
Air Bag Warning Light: Don't drive when your airbags are out of order; it's just not safe at all.
Low Fuel Warning Light: Don't drive when you're low on fuel; it's just not smart at all.
Schedule Service Today at Peake Chrysler Dodge Jeep Ram FIAT!
Most of the local drivers in Ontario, Sodus, Wayne County, and the surrounding New York communities tend to agree that Peake Chrysler Dodge Jeep Ram FIAT is the best place to bring your Dodge Durango if it requires service. Call us today to schedule an appointment. We can resolve any of your warning light issues!