Fiat 500 Safety Features
Sporty compact SUVs rarely have a reputation as safe vehicles. However, the 2017 FIAT 500 is about to change all that. It's one of the safest automobiles available for the drivers in Wayne County, Sodus, and Ontario.
Where is it available? It's available at Peake Chrysler Dodge Jeep Ram FIAT-that's where.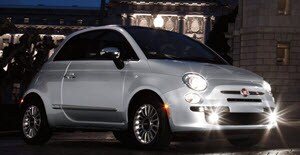 If you'd like to test drive the 2017 FIAT 500 to get a feel for its safety features, then we're the place to go. Until then, we encourage you to read this FIAT 500 safety features review, which contains plenty of information, including an overview of its Four-Wheel Disc Antilock Brake System, its official IIHS and NHTSA safety ratings, and beyond. Thanks!
2017 FIAT 500: Everything You Need To Keep You Safe
Steel Safety Frame Reinforcement. Should you get in an accident, the 500's high-strength frame will absorb as much of the crash energy as it can. In other words, it'll absorb it so your body doesn't.
Seven Protective Airbags. Just another way it absorbs life-threatening crash energy. Well, in seven ways.
Four-Wheel Disc Antilock Brake System. FIAT's standard braking system sits at the crossroads of safety, security, and control. It gives each brake independent stopping power, which helps prevent a lock-up.
Electronic Stability Control. By fine-tuning the throttle and engaging the brakes individually, FIAT's ESC system provides you with optimal stability and handling. It's perfect for roads from the United States to Europe.
ParkSense® Rear Park Assist System. Finally, you can reverse confidently, seeing as you'll have helpful chime alerts to let you know when there's an object in your immediate vicinity.
2017 Fiat 500: What Do The Safety Experts Think Of It?
Well, they seem to think quite highly of it. The Insurance Institute for Highway Safety, for one, gave it the following scores on its crash test standards. Don't forget that good is the highest score they offer.
Moderate Overlap Front Test Results: Good
Side Impact Test Results: Good
Rear Crash Protection Results: Good
Roof Strength Test Results: Good
Still, the praise doesn't end there. Check out the National Highway Traffic Safety Administration's ratings.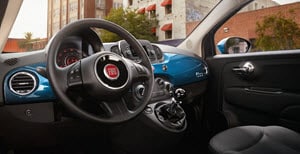 Overall Rating: Four Stars
Frontal Crash Rating: Four Stars
Side Crash Rating: Five Stars
Rollover Rating: Four Stars
In fact, the 2017 Fiat 500 is such a safe car that the manufacturer endowed it with an amazing warranty. Its 48-Month/50,000-Mile Basic Limited Warranty is one of the longest in the business. It's longer than Volkswagen's; it's longer than Ford's; it's longer than Honda's; and it's longer than Nissan's.You get it.
Test drive the 2017 FIAT 500 Safety Features at Peake!
There's no better way to get a feel for the 2017 FIAT 500 safety features than by taking it for a spin. If that interests you, simply reach out to us at Peake Chrysler Dodge Jeep Ram FIAT to set up a test drive.
We proudly serve the communities of Ontario, Sodus, and Wayne County.