Fiat 500 Trim Levels
Most people don't think of charm when it comes to subcompact cars, but that's exactly what the 2017 FIAT 500 delivers, and delivers in a big way. Not only is it practical, it's fun to drive, stylish, and flat-out playful. It's an immediately recognizable car which offers good EPA-estimated fuel economy that comes with options for either automatic or manual transmission and plenty of space inside.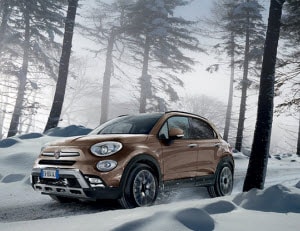 Another thing that compact cars aren't generally known for are options, but the FIAT isn't a bare-bones vehicle by any stretch of the imagination. It offers a variety of trim levels and options for any need. Read a comparison of the 2017 FIAT 500 trim levels, the options available, and where you can go to get behind the wheel of this classy little subcompact.
FIAT 500 Trim Levels
There are three basic options for the 2017 FIAT 500 trim levels, and each is available in hatchback or convertible form. Unlike many cars that use uncreative names for their trims, the FIAT has fun with these. The trim levels are called Pop, Lounge, and Abarth.
Pop Trim Features
The Pop is the base trim level for the FIAT 500, and comes with a good suite of options. These include alloy wheels; keyless entry; heated mirrors; A/C; cruise control; power accessories; adjustable driver seat; a 7-inch, full color driver information display; and access to the Uconnect® infotainment system with 5-inch touchscreen. Also included are Bluetooth® integration, voice command functions, and an Alpine 6-speaker stereo with auxiliary, dual USB ports, and on the convertible, rear parking sensors and windscreen.
Lounge Trim Level

As with many vehicles, stepping up nets you the prior features, and more. At the Lounge trim level, you get the full range of Pop features plus a special chromed exterior detailing, fixed glass roof, auto-dim rearview mirror, rear parking sensors, fog lights, heated front seats, automatic climate control, satellite radio tuner, and leather upholstery.
Top Abarth Trim
This gives you all the Pop features, plus the Lounge's parking sensors and fog lights. It adds to that a special turbocharged engine for more power, rear spoiler, sport-tuned suspension, higher-end brakes, performance exhaust, special tweaks to the style both inside and out, sport steering wheel, leather-wrapped shifter knob, and premium upholstery.
Individual Add-Ons
One of the most attractive features of the 2017 FIAT 500 is that several features are available as individual add-ons at any level. These include a few the Lounge level features, as well as a sunroof (coupe models only), 16-inch or 17-inch wheels, Beats Audio upgrade with six speakers and subwoofer in the trunk, navigation system, and a broad range of options to tweak your interior and exterior styling from Mopar.
There's plenty of reasons to go with a subcompact car, most of which are economical in scope. But just because you're going with a fiscally responsible vehicle, doesn't mean you must go with one that doesn't give you options. If you live in the Sodus, Wayne County, or Ontario areas and would like to know more about the 2017 FIAT 500, contact us here or stop into Peake Chrysler Dodge Jeep Ram FIAT for more information today!