Fiat 500 vs Chevy Cruze
If you're a driver in Wayne County, Sodus or Ontario thinking about purchasing a new vehicle, your first and most important decision is what class of vehicle you'll drive. Although every vehicle class offers its strong suits, the one that offers the most surprising benefits is compact. Compact cars provide several exciting features, including great interior options, customizable exteriors and surprising performance.

In the compact class, there are two models that distinguish themselves from the competition: the Fiat 500 and the Chevrolet Cruze. Read about the best features of the 2017 Fiat 500 and the 2017 Chevrolet Cruze to help you decide which is your perfect compact car.
Fiat 500 vs. Chevy Cruze: Interior Features
When shopping for a new car, your primary consideration should be what kind of features you'll have access to on the inside of your vehicle. Whether you choose the Fiat 500 or the Chevrolet Cruze, you'll be riding inside an exciting, useful cabin.
In addition to an impressive cargo space of 47.2 cubic feet, the Cruze offers incredible interior features like 4G LTE Wi-Fi Hotspot capability, Apple CarPlay/Android Auto support, and a seven-inch infotainment system. In the interior of the Fiat 500, information is king-a customizable driver information display and a Uconnect infotainment system enhance your driving experience.
Fiat 500 vs. Chevy Cruze: Exterior Design
Exterior styling is another crucial component to consider when choosing a new compact car, and one of the main advantages of driving either the 2017 Fiat 500 or the 2017 Chevrolet Cruze is having the ability to tailor your vehicle's exterior to precise taste.
For instance, with the Cruze, you can select either a sedan or hatchback, whichever best fits your lifestyle. If you're seeking a variety of customization options, however, you'll prefer the Fiat 500 and its fifteen available covers, an available soft top retractable roof, and an available sport that is mounted on the liftgate.
Fiat 500 vs. Chevy Cruze: Performance Options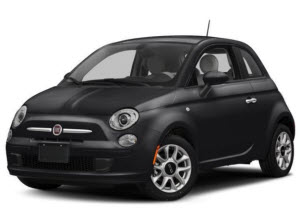 A common misconception about compact vehicles is that they lack something in the way of engine power. However, when you drive either the Fiat 500 or the Chevrolet Cruze, you'll be getting every ounce of performance that you need and deserve.
Under the hood of the Cruze, you'll find a peppy 1.4L turbocharged four-cylinder engine rated at 153 horsepower and 177 lb-ft of torque. With the Fiat 500, you'll get a little extra zip thanks to its 1.4L MultiAir four-cylinder engine capable of delivering 160 horsepower and 170 lb-ft of torque. Whichever compact car you choose, you'll have access to an impressive amount of power.
Take a Ride in the 2017 Fiat 500
Consumers in Ontario, Sodus, and Wayne County searching for an excellent compact car have a perfect choice in the Fiat 500. Matched head to head with the Chevrolet Cruze, the Fiat 500 proved itself to be the best compact car on the road, providing all the features that matter to intelligent car shoppers. Examine the incredible 2017 Fiat 500 up close and personal by stopping by Peake CJDRF for a test drive.
By visiting Peake CJDRF, you'll have access to a huge inventory of new and pre-owned vehicles, giving you the variety of choice that you need when shopping for a new car.