Fiat 500 vs Smart Car
One of the most interesting car classes that shoppers need to learn more about is subcompacts. These small vehicles offer some of the biggest features on the market, including surprising performance and great technology. If you're looking for a new car to get around Sodus, Wayne County, and Ontario, there are two models you should learn more about: the 2017 FIAT 500 and 2017 smart car.
 Both immediately recognizable cars are excellent options, which is why you should compare them head to head before making any purchasing decisions. Learn about the features of the 2017 Fiat 500 and the 2017 smart car to find out which is the year's top quality subcompact vehicle.
FIAT 500 vs Smart Car: Exterior

If you're looking for a subcompact car, you might worry that you'll have to sacrifice a little on style to get the smaller vehicle you're looking for. Fortunately, whether you choose the FIAT 500 or the smart car, you'll get an automobile whose style outshines its size by a large degree.
This year's smart car is probably the most attractive in this brand's recent history, providing a much sleeker look than previous versions.
However, if you're interested in signature Italian styling, then the subcompact car for you is the FIAT 500, which offers one of the most enticing, eye-catching designs anywhere on the road. The FIAT 500 comes with 15 exterior color options to choose from vs. the smart car's 10 color options. The FIAT 500 exterior color options include:
Rosso (Red)
Bianco (White)
Laser Blu (Bright Metallic Blue)
Verde Oliva (Olive Green)
Billet Argento (Silver)
Nero Puro (Straight Black)
Giallo Moderna Perla (Yellow)
FIAT 500 vs 2017 Smart Car: Performance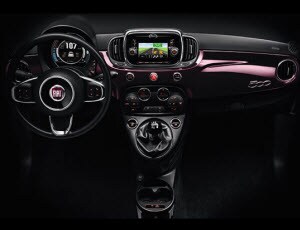 Another drawback to certain compact cars is losing out in the performance department, but this isn't a concern when your next subcompact is the 2017 Fiat 500. Although both the 500 and the smart car offer outstanding performance levels for such small vehicles, we should examine them more closely.
In the smart car, you'll have access to a standard engine that can produce 89 horsepower and 100 lb-ft of torque.
The FIAT 500 features a MultiAir 1.4L engine that can output an impressive 101 horsepower and 98 lb-ft of torque.
Technology You're Destined to Love
An additional area that every modern car consumer in Ontario, Sodus, and Wayne County needs to consider is what kind of technology features a vehicle offers. If you like great technology, then you're going to really enjoy both the FIAT 500 and the smart car.
Although the smart car offers some great technology worthy of your attention, for some of the best technology features in the subcompact class, you need to hit the road in the newest FIAT 500. A few of the FIAT 500's best technology options include keyless remote entry, an Alpine Premium Audio system, and a Uconnect® 5-inch touchscreen infotainment system.
Test Drive the 2017 Fiat 500
In the competition for the best subcompact car of 2017, the obvious winner in every major category was the FIAT 500. Learn more about the 2017 FIAT 500 by scheduling a test drive today at Peake Chrysler Dodge Jeep Ram FIAT (CDJRF).
Every member of the Peake CDJRF family is ready to help you find your next car in a stress-free and rewarding environment. Stop by today so we can tell you more about the FIAT 500 or any of our other amazing vehicles.