Fiat 500X Safety Features
A compact SUV like the Fiat 500X is great for a lot of things. It gives you the versatile capabilities of a larger vehicle, coupled with the fuel efficiency of a sedan; it gives you a spacious cabin, paired with exterior dimensions slim enough to allow you to park it anywhere. But is it a safe vehicle?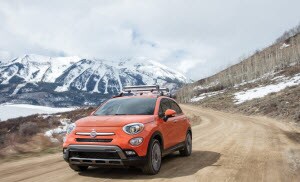 When it comes to the 2017 Fiat 500X safety features, we can answer with a resounding yes. Yes, it is a safe vehicle. That's why our team at Peake Chrysler Dodge Jeep Ram FIAT wrote this review of the 500x's various safety features. If you live in Ontario, Wayne County, or Sodus, and you have any further questions, don't hesitate to reach out to us now.
Fiat 500X Safety Features: Blind Spot Monitoring
According to the manufacturer's website, this available system "uses sensors to assist you when changing lanes [by alerting] you of traffic in your vehicle's blind spot zones." That's an invaluable feature when it comes to high-speed highway driving-especially if there are children in the car.
Forward Collision Warning
The FIAT can intelligently sense an impending frontal collision. It'll then take one of two courses of action, depending on the severity of the situation. First and foremost, it'll alert you with some visual indicators and an audible chime. However, if you don't react in time, it can even apply Active Braking.
Fiat 500X Safety Features: Parking Assistance
The 500X's ParkSense® Rear Park Assist System, combined with the ParkView® Rear Back Up Camera, is an incredible asset for reversing in those tight parking garages. After all, isn't that one of the reasons you chose a compact SUV as opposed to a full-size model? You want to be able to park anywhere-now, you can.
Miscellaneous Safety Features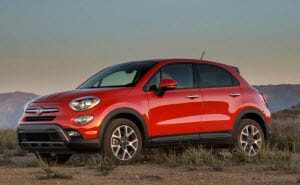 Plus, that's not even getting into its high-strength steel unibody frame or its suite of seven airbags, including multistage front airbags. These low-tech, nuts-and-bolts features, paired with the high-tech, responsive features covered above, will ensure that you have the best chance of safety possible.
2017 Fiat 500X – IIHS Top Safety Pick
Still, don't take our word for it. Take the word of the Insurance Institute for Highway Safety! They named the 2017 Fiat 500X a 2017 TOP SAFETY PICK (when equipped with optional front crash prevention). That's one of the most prestigious designations in the entire industry given to a FIAT automobile that deserves it.
Test drive the 2017 Fiat 500X at Peake Chrysler Dodge Jeep Ram Fiat!
While we surely hope you never need to experience any of the 500X's seven airbags, it might not be such a terrible idea to try out its ParkView® Rear Back Up Camera or any of its other advanced safety features.
If that interests you, simply schedule your test drive at Peake Chrysler Dodge Jeep Ram FIAT. We're here to serve our customers from Sodus, Wayne County, Ontario, and the surrounding area. Contact us ASAP to learn more about the Fiat 500X safety features!