2018 FIAT 500X vs 2018 Mini Cooper
No matter what type of vehicle you drive, it's essential that you're equipped with the ability to pack up your car and soar down the roads of Ontario, Wayne County, and Sodus at a moment's notice. And, with either the 2018 FIAT 500X or the 2018 Mini Cooper, you'll dominate your path like a true champion.
But, if you're looking for a tiny titan that'll make your next spontaneous adventure even more convenient, only one of these automobiles will deliver on your needs.
To determine which one of these cars is best for you, let's dive into this 2018 FIAT 500X vs. 2018 Mini Cooper vehicle comparison, created by Peake Chrysler Dodge Jeep Ram FIAT. Before long, you'll be surging along your route at the helm of a vehicle that's ready for anything.
Performance Beyond the Standard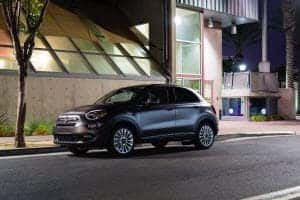 Just because you're seated behind the wheel of a small speedster doesn't mean that you shouldn't be armed with mighty performance.
Tucked beneath the sleek hood of the 2018 FIAT 500X, you'll advance along your route with the help of the standard 1.4L turbo motor that churns out 160 horsepower and 184 lb-ft of torque.
To harness all that energy, this automobile comes equipped with the FIAT Dynamic Selector, which features different driving modes to suit your mood.
With options like Auto, Sport, Traction+, and available All-Wheel Drive (AWD), you'll quickly transform your vehicle to handle anything the road throws your way.
On the other hand, the 2018 Mini Cooper offers up a standard 1.5L motor that produces 134 horsepower and 162 lb-ft of torque. But without the numbers put up by its FIAT counterpart, you may find a ride inside this automobile to be a little less capable for your upcoming journey.
2018 FIAT 500X vs 2018 Mini Cooper: Technology
To keep you feeling connected during every minute of your ride, the 2018 FIAT 500X provides you with a standard 7-inch touchscreen that operates the Uconnect® 4 infotainment system. Within this high-tech setup, you'll have access to a wide variety of innovative features, such as:
Bluetooth®
Apple CarPlay™
Android Auto™
And more
Alternatively, the 2018 Mini Cooper includes a 6.5-inch display inside the cabin, which could prove to be a bit more difficult to maneuver while driving than the larger touchscreen available in its FIAT competitor.
Plus, this automobile doesn't come standard with items like Apple CarPlay™ or Android Auto™. That means that connecting to your library of hand-selected entertainment might not be quite as simple as you thought.
Comfort and Convenience
Before you load your vehicle up with your belongings, it's essential to check to see if your cabin can fit all your gear.
That's why the 2018 FIAT 500X serves up 50.8 cubic feet of cargo room with the rear seats folded down. With those measurements, you won't have any trouble squeezing your luggage into the cabin and hitting the road.
And, while the 2018 Mini Cooper presents some cargo space, it doesn't match the storage capacity offered up by the FIAT 500X. That's because this vehicle's cargo room maxes out at 34 cubic feet, which may not be quite enough space for your items.
2018 FIAT 500X vs 2018 Mini Cooper Vehicle Comparison: Verdict
At Peake Chrysler Dodge Jeep Ram FIAT, we want to help you locate the ride that's adorned with everything you need to revel in your upcoming roadway adventure near Ontario, Wayne County, and Sodus.
And by choosing the 2018 FIAT 500X as your next companion, nothing will stand between you and a rip-roaring drive along the highway.
Why wait around to learn more about what this car can do for you. Instead, stop by our showroom or schedule your test drive today!