Guaranteed Credit Approval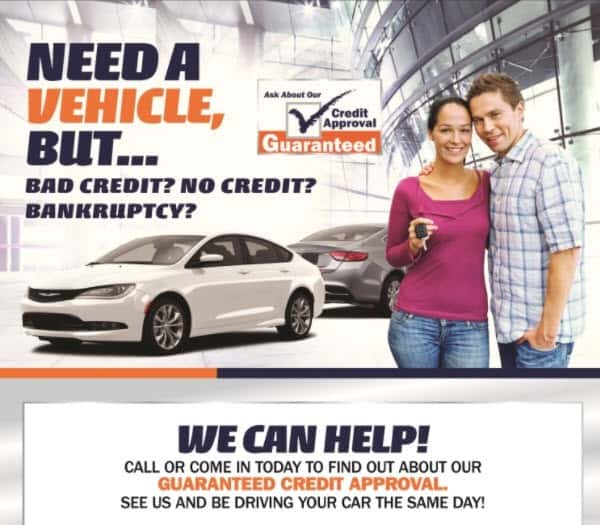 When you're ready to buy a new car in Ontario, Wayne County, or Sodus, the most important factor to consider other than the car you'll drive is how you'll finance your new vehicle. The first step in financing your vehicle will be to go through a credit check, which can prove an obstacle for many drivers. While many car dealerships will turn you away if you have bad or no credit, the team at Peake CJDRF is here to help you purchase your new car.
Learn more about financing a vehicle and why you'll receive guaranteed credit approval when you buy your next car from Peake CJDRF.
The Importance of Good Credit
The major reason for you to maintain a high credit score is that it gives you access to better financing terms when it comes time to purchase a new car. People who have good credit will be able to receive more advantageous interest rates, loan lengths, and monthly payments. In addition, good credit gives you the ability to choose from a wider selection of vehicles than those who have not maintained their credit score.
Unfortunately, when your credit is bad or non-existent, it can be difficult to purchase the car you need at the terms you want. Luckily, even if you don't have good credit, you can still purchase a vehicle with the help of the team at Peake CJDRF.
Items You Need to Drive Away in Your New Car
When you come into Peake CJDRF to purchase a new vehicle, there are a few items you need to make sure to bring with you. If you bring the right documents, we can help you get the financing you need to drive off of our lot in your brand-new car.
First, you should be sure you possess a valid driver's license and registration. Next, you will need both proof of income and proof of auto insurance. Finally, although it's not required, you should bring either a bank statement or phone bill as this will make the approval process much easier.
Peake CJDRF Never Says No
Where other Sodus, Wayne County and Ontario car dealerships only care about their bottom line, the team at Peake CJDRF cares about you, which is why we offer a guaranteed credit approval. Whether you have good credit, bad credit, or no credit, we're here to work with you so you can get the quality vehicle you need and deserve.
Our finance team will guide you through the approval process, and can offer you advice about improving your credit score. Once you've received your guaranteed credit approval, our sales team can help you browse our lot and point you in the direction of vehicles that match your level of financing. Visiting CJDRF means having a dealership team ready to serve you in whatever way we can.
Get Your Guaranteed Credit Approval Today
If you're ready to buy your next car, your first and last stop should be Peake CJDRF. We work with car buyers at all credit levels, and our guaranteed credit approval means you can leave our lot in the new or pre-owned car of your dreams. Stop by Peake CDJRF today and let us start working for you.