Jeep Cherokee vs Toyota 4Runner
A luxury SUV with off-road suspension – almost sounds like an oxymoron. A luxury vehicle with all the creature comforts of a high-end ride and yet still capable of climbing mountains and going off the road and far from the beaten path is truly the ultimate in today's vehicle. By "typical" day, both the 2014 Jeep Cherokee and the 2014 Toyota 4Runner will take you to work, to the country club, to the boutiques, and to the restaurants; during your oceanfront vacations both the Jeep and the 4Runner will drive you over the sandy terrain and right up to your beach house's front door.
And, in case you were so inclined, they will not only take you for an adventure on the beach but also on boulders and through swamp country like no other vehicles in their class would even dare to consider. The similarities end there.
Off-Roading
Available in four different trims levels (Sport, Latitude, Limited, and Trailhawk), all of the Jeep Cherokees (except the one with the Trailhawk trim) are available in either front-wheel drive or four-wheel drive. Whether you choose the Sport, the Latitude, or the Limited, all three four-wheel drive systems offer off-road prowess because the Cherokee's standard electronic Selec-Terrain traction-control system allows you to choose up to 12 different settings to attain \optimum performance. Yep, that's right; you can choose (or simply select the Auto setting) for Snow, Sport, Sand/Mud, and Rock. A blast to ride on rutted trails, the 2104 Toyota 4Runner is a rugged, mid-sized sport utility vehicle that truly shines off road. Much more than simply a car-based crossover, this SUV was designed for the adventurous driver.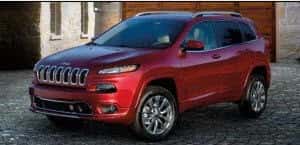 Transmission
All models of the 2014 Jeep Cherokee come with nine-speed automatic transmission as standard equipment. Developed by global transmission giant ZF, the transmission enables really smooth accelerations, impressive power delivery, and exceptional fuel efficiency. The 4Runner, on the other hand, rides like a truck and is neither fuel efficient nor comfortable (or conversation-friendly) since it doesn't make taking on winding roads easy or chats with passengers while driving on highways audible; however, it accelerates fast and shifts smoothly (due to its standard 270-horsepower V6 engine and its 5-speed automatic transmission).
Interior
Gone are the days when the best thing about a Jeep was how it looked on the outside and how it took you places very few others traveled. Everyone knew the inside of a Jeep was nothing to write home about. Well, get out your paper and pen (or your electronic gizmos and gadgets) because there's lots to write about the Jeep Cherokee today.
For starters, the overall look of the interior of the 21st century Jeep Cherokee is both gorgeous and upscale; in comparison, the Toyota's 4Runner's cabin is simple. The Jeep's top-of-the-line seats are ergonomically designed, creating both an aesthetic appeal and solid physical support (something you'll appreciate and notice even more as you traverse the tumultuous terrains on your weekend adventures). In addition, they are trimmed with your choice of Napa leather or high-end cloth.
The seats are power-adjustable and provide heat, ventilation, and lots of memory settings so you can just set them and go. The Toyota's front seats are power-adjustable. The back-seat is a 60/40 split of second row seats that easily adjust forward and backward, providing increased cargo room and comfort for your four-legged (and two-legged) passengers. The 4Runner has a 40/20/40 split back seat; the SR5 accommodates seven passengers comfortably (if those sitting in the third row are children). The Jeep's interior also has both a cool gizmo that's a wireless charging pad and a seven-inch color configurable smartphone-like instrument cluster and glove box that's bigger than a bread box.
Exterior
The Jeep is truly one of those vehicles you have to experience in person – the photographs don't do it justice. The exterior design of the Cherokee still has the iconic seven-portal grille but now with a unique front-end treatment. With its higher ride height, skidplates, and rugged front and rear fascia, Jeep's Trailhawk model adds an even tougher edge to the already awesome macho design. Jeep's gone even further to bring the driver and his/her passengers closer to nature with the CommandView panoramic sunroof or the Sky Slider full-length opening canvas roof. For the 2014 4Runner, not too much has changed in its rugged, boxy shape. Toyota added large, boomerang-shaped indentations below the slanted headlights in the front; however, if you opt for the high-end Limited Edition, it doesn't come with that design, so you don't have to convince yourself that you like it.
Named one of the top 10 best SUVS on the market, the Jeep Cherokee is all new, all plush, and all off-road capable. Visit Peake in Sodus to test drive one today!