Jeep Compass vs. Ford Escape
When it comes to crossover SUVs, the Ford Escape has been well-known as an industry leader for some time due to its superior performance and comfort. However, if there's any vehicle that defines the idea of an impressive performing sport utility brand, it's Jeep-the Jeep Compass also upholds its status as one of the best crossovers on the road.
Both vehicles offer solid performance, exceptional features, and smooth handling. So, which one is better for Ontario, Sodus, and Wayne County drivers? Explore the similarities and differences between the 2017 Jeep Compass and the Ford Escape, and determine which of these crossover SUVs is best for you.
Jeep Compass vs. Ford Escape: Off-Roading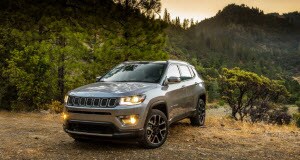 When it comes to off-roading, both vehicles offer excellent performance, but when the 2017 Jeep Compass is equipped with the Freedom Drive II Off-Road Group, it shines. Jeep has a reputation for handling off-roading better than anyone else, and with the true 4×4 drivetrain, you've got optimal handling of steep grades and rough terrain of all types.
That's not to say the Ford Escape is a slouch in this area-indeed, it uses intelligent 4WD to automatically adapt to a variety of road conditions and provides solid traction overall. However, it's hard to stand up to a Jeep in terms of taking the SUV off-road. The Compass offers more ground clearance, features powerful skid-plates, and has hill descent control, all of which add up to an outstanding off-roading experience.
Jeep Compass vs. Ford Escape: Driving Experience
The new Compass comes with a special brand-specific AutoStick transmission with six speeds, coupled to a CVT with which it seamlessly syncs with. It's an innovative approach to manual shifting, which isn't available on the Escape's SelectShift transmission.
When you add the available Off-Road Crawl Ratio that adapts the Compass to rough traction conditions and the available five-speed manual transmission, you've got a ton of options to deliver a comfortable and smooth ride, all supported by a top-notch suspension that only gets better at the Touring level. Again, here the edge goes to the Compass.
Jeep Compass vs. Ford Escape: Technology Offerings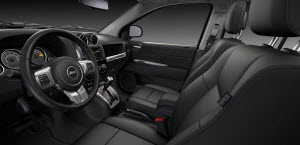 Both the Escape and the Compass offer brilliant infotainment and telematics packages. Both vehicles offer access to satellite radio with a SirusXM subscription. Plus, both can come with GPS navigation and a solid suite of app integration and entertainment packages, including Bluetooth, voice commands, and streaming audio.
The Compass, however, features a GPS navigation system with a 40 GB hard drive-an impressive addition. Furthermore, dual articulated speakers allow you to open up the back and provide entertainment outside the vehicle while you're camping or tailgating.
Check out the 2017 Jeep Compass at Peake CJDRF
There's little question that while the new Ford Escape is an outstanding overall SUV, the new 2017 Jeep Compass beats it out in terms of performance, ride experience, and technology offerings. Peake CJDRF carries a range of Compass vehicles in several colors, options packages, trim levels, and styles. If you live in the Ontario, Sodus, or Wayne County areas, contact us here or stop into our showroom and get behind the wheel to test drive this great crossover SUV for yourself!