Jeep Compass vs. Toyota RAV4
It's perhaps an understatement to say that the roads are crowded with crossover SUVs. Every year brings a new model overhaul and the field is ripe with competition. Still, there are a select few brand names that consistently jump out as leading performers. Among these are Jeep and Toyota.
Can the current model version of the 2017 Jeep Compass stack up to the new RAV4 for drivers in Ontario, Scotus, and Wayne County? Read a direct, side-by-side breakdown of the 2017 Jeep Compass vs. the new 2017 Toyota RAV4 to learn which is the better SUV and where you can test drive one.
Jeep Compass vs. Toyota RAV4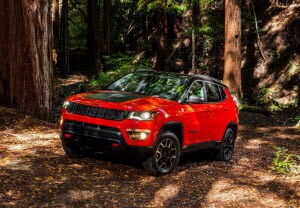 The new Toyota RAV4 offers superb performance, outstanding technology, and strong fuel efficiency. Jeep, on the other hand, is a name that defined "sport utility vehicle" before there was such a thing, and the 2017 Jeep Compass in many ways exemplifies a crossover. Each of these vehicles offers a strong argument for leading the pack.
Towing and Off-Roading
When it comes to towing and off-roading, the RAV4 is a sturdy vehicle, but it's not designed for sport driving. Its MacPherson struts and rack-and-pinion steering offer agile handling and a pretty smooth ride, but its maximum towing capacity isn't much more than 1,500 pounds total.
The new Compass, on the other hand, is built to go off-road and haul. When properly equipped, the Compass can have a hauling capacity of up to 2,000 pounds, and at with the right Off Road package, it can take even the toughest terrain with confidence.
Performance
Both the RAV4 and the Compass are driven by an inline four-cylinder engine that puts out a solid performance overall, and both vehicles perform similarly in this area. The Compass version uses overhead dual camshafts and variable timing, which streamlines the exhaust and power flow. This has the effect of delivering an EPA-estimated 30 mpg on the highway and 23 in the city, very similar, again, to the RAV4.
However, the transmission, hill descent control, and suspension features of the Compass are not only designed to offer superior off-roading-they also deliver superior handling and comfort on road. In the end, the Compass just barely edges out the very similar RAV4 in performance.
Interior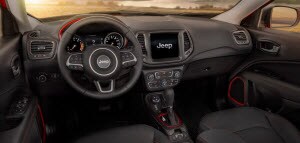 With a complete redesign this year, the Compass gives you a near-perfect blend of utility, function, comfort, and style. The new Entune infotainment system offers a great blend of entertainment and driver information features, including a GPS system with 40 GB hard drive as well as the USB, Bluetooth, and Sirius XM tuners that are available in the RAV4. Its dual modular speakers, which allow the vehicle to be used as an exterior entertainment system, are something that the Toyota cannot match, however.
2017 Jeep Compass at Peake CJDRF
In the end, after reading out Jeep Compass vs. Toyota RAV4 comparison, you can see that while both of these vehicles are exceptional cars and offer similar features and handling performance, the Compass edges out the new RAV4 in terms of off-road performance, technology, and entertainment features. If you'd like to test drive a new Compass for yourself in Wayne County, Ontario, or Scotus, contact Peake CJDRF to get behind the wheel today!