Jeep Grand Cherokee Safety Features
A vehicle's level of safety is an incredibly important factor when picking out a new car. While it's great to have a strong engine with excellent horsepower, it often comes second to safety elements, especially when seeking a family vehicle.
For your consideration, Peake CJDRF, serving the Sodus, Wayne County and Webster areas, has compiled a list of all available Jeep Grand Cherokee safety features.
Protective Airbags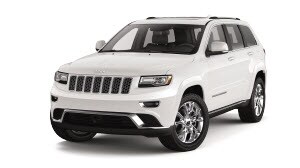 When faced with impact, the Jeep Grand Cherokee has you covered. The Cherokee comes with full-length side-thorax and side-curtain airbags to ensure the driver and passengers are protected at every angle.
Parallel and Perpendicular Park Assistance System
It's no secret that parking can be a tense experience, especially when you're squeezing into a tight spot. To make the process easier for you, the Jeep Grand Cherokee offers an advanced parking system that recognizes openings and gives you directions on how to park in the spot.
All you have to do is push a button that engages your ultrasonic sensors, and superior parking assistance is immediately available.
Accident Avoidance Systems
The Jeep Grand Cherokee's Accident Avoidance Systems truly prove we are living in the modern age. When purchasing your Jeep, you'll have a large selection of available systems, one being Blind Spot Monitoring. Blind Spot Monitoring will help you identify any obstacles obstructed from your position in the driver's seat.
Additional systems include but are not limited to: Forward Collision Warning Plus, a ParkView Rear Back Up Camera with dynamic grid lines (including a center line for RVs), and Electronic Stability control.
By providing you with coaching and prompting, these systems will help you maintain control of your vehicle and make the best choices possible while on the road.
If you have inquiries about any of these systems, representatives at Peake CJDRF would be happy to answer any and all of your questions.
ParkView Rear Back Up Camera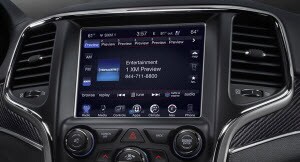 The ParkView Rear Back Up Camera mentioned above in Accident Avoidance Systems helps you feel secure and confident while backing out of a parking space. The system shows you a video image of your vehicle's rearview, as well as grid lines that indicate where your vehicle is in relation to the lines of the parking space.
With this system, you'll have on-screen visibility of objects that might be out of your sight when simply relying on your physical view from the driver's seat.
Remote Keyless Entry
The remote Keyless Entry system allows you to unlock and lock the doors of your Jeep Grand Cherokee from up to 50 feet away from your vehicle. This lets you secure your car from a bit of a distance, even if you initially forgot.
Additionally, the Grand Cherokee's Sentry Key features an antitheft engine immobilizer that makes it nearly impossible for anyone without a valid key to drive your car.
Roadside Assistance
Jeep Grand Cherokees offer the safety feature of an emergency 9-1-1 call button. Conveniently, when you press this button, you will be immediately connected to a 9-1-1 operator. During a true emergency, there is no better safety measure than this.
To see the Jeep Grand Cherokee safety features for yourself, be sure to stop by Peake CJDRF near Sodus, Wayne County, and Webster. Call us to schedule a test drive today!