Jeep Renegade Dashboard Symbols
Keeping your Jeep Renegade up-to-date on both routine scheduled maintenance and emergency repairs is probably one of your top priorities. And, if it isn't, well, we encourage you to make it one ASAP. That's because your SUV undergoes plenty of bumps and bruises while it's out there on the road and the trail.
Luckily, the Jeep Renegade dashboard lights will give you a heads-up when it's time to take it into the shop. That's why our team at Peake Chrysler Dodge Jeep Ram FIAT wrote this informative guide for our customers in Ontario, Sodus, Wayne County, and nearby towns.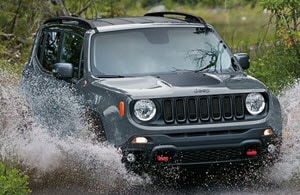 If you have any further questions, or if you need to schedule a service appointment, get in touch today!
Airbag Light: If your Airbag Light comes on, you should act immediately. After all, the airbags are what will protect you and your passengers, should you get into an accident. They're very, very, very crucial.
ABS Light: When your ABS Light flicks on, it means there's an issue with your Anti-Lock Brakes. This braking system gives you the extra stopping power you need to drive on wet or slippery road surfaces.
Tire Warning: Is there a problem with your Tire Pressure Monitoring System? The 2017 Jeep Renegade's Tire Warning will let you know. If there is, reach out to us at our service center. We'll solve it right away!
Brake Icon: The Renegade's Brake Icon means you should get your SUV to a professional. We don't want to drive around with a set of busted brakes. Do you? We didn't think so. Go and get 'em checked out!
ESC Light: Ah, the Electronic Stability Control System. Lots of drivers don't know too much about it, but lots of drivers rely upon it every day. It's what gives you great traction and keeps your vehicle upright.
Charging System: Without a properly functioning charging system, your SUV might not be able to start.
Coolant Light: If either your coolant is low or your engine is overheating, the coolant light will come on. It doesn't really matter what the situation is-if it's illuminated, you should seek professional help now.
Oil Warning Light: Your engine oil pressure is probably way too low. We know some people who could help with that type of situation: the guys and gals here at Peake Chrysler Dodge Jeep Ram FIAT. Easy!
Check Engine Light: Ah, the seemingly ubiquitous Check Engine Light. It could mean a lot of different issues, but it's not necessarily your job to figure that out. That's ours-bring it to our service center.
Schedule a Service Appointment Today at Peake Chrysler Dodge Jeep Ram FIAT!
Don't forget that our expert automotive technicians can deal with just about anything. In other words, they can fix a minor issue before it turns into a major problem. Set up your service appointment ASAP.
Regardless of whether you live in Ontario, Sodus, or Wayne County, we're here to serve you. Thanks!