Jeep Wrangler vs Land Rover
Navigating steep mountain paths and narrow forest trails around Upstate New York requires a vehicle like the Jeep Wrangler that has stout engineering and superb off-road capabilities. Wind, rain, and snow are no match for the Wrangler's powerful V6 engine and nimble 4X4 system, designed for groundbreaking adventure and off-road exploration. As one of the most capable SUVs on the market, the Wrangler is engineered for exploring unchartered territory, no matter the elements in Sodus, Wayne, and Webster County.
Living in an area with unpredictable weather, uneven terrain, and off-road trails requires the right kind of SUV, and we want to make sure that you choose the perfect vehicle. That's why we decided to compare the Wrangler's features to one of its top competitors, the Land Rover LR4. Keep reading for more information!
Designed for the Road Less Traveled
The Jeep Wrangler is available in three trims-Sport, Sahara, and Rubicon-which have standard all-wheel drive, a six-speed automatic transmission, and a 3.6-liter Pentastar® V6 engine. With its best-in-class 285 horsepower and 260 lb-ft of torque and an EPA-estimated 17 city/21 highway mpg rating, the Wrangler offers rugged handling on uneven terrain throughout Sodus, Wayne, and Webster.
The Wrangler also offers two 4X4 systems to choose from along with best-in-class ground clearance, break over, and approach. Trail Rated® with a 3,500-lb towing capacity, the Jeep Wrangler is highly capable and intelligently designed so you can traverse Upstate New York's unpredictable roadways with ease.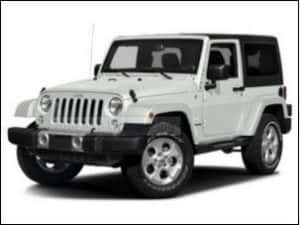 Engineered for Life Off the Beaten Track
The Land Rover LR4 is available in five- and seven-passenger configurations, each with an eight-speed automatic transmission and a 3.0-liter V6 engine. Though it comes with impressive off-road capabilities, the LR4 is less efficient on gas, with an EPA-estimated 15 city/19 highway mpg compared to the Wrangler's 17 city/21 highway mpg. It also lacks cargo space, making it difficult to carry your equipment during off-road excursions. It also comes with the same 24-cm all-season tires that do little to improve ground clearance compared to the Wrangler's 27-cm tires.
Additionally, the LR4's interior material is more delicate than the Wrangler's and can be tough to work with while driving off-road. Tracking mud, water, and snow into the LR4's cabin will soil its interior and leave stains that are difficult to get out, which means drivers must be more conscientious during outdoor expeditions. The Wrangler, on the other hand, comes with a washable interior with drain plugs, which makes cleaning up easier after a day of driving off-road.
Test Drive a Jeep Wrangler at Peake in Wayne County
If you're looking for an SUV that's ready to play in the mud, the Jeep Wrangler is a better choice than the Land Rover LR4. The Wrangler is prepared for rough terrain, inclement weather, and adverse road conditions so you can get where you need to go efficiently throughout Sodus, Webster, and Wayne County.
You can schedule a test drive of the Jeep Wrangler at Peake in Wayne County today, conveniently located at 49 West Main Street in Sodus, NY.