Ram 1500 vs Ram 2500
In the Wayne County, Sodus, and Ontario areas, Ram trucks have become more popular than ever. With new innovations and impressive capability, all sorts of drivers have begun to enjoy everything these powerful pickups can offer. If you're looking to make an upgrade yourself, now's the time to consider a new Ram truck.
There are quite a few Ram trucks available, however, you need to make sure you're opting for the right one. The Ram 1500 and the Ram 2500 stand to be two of the best and most capable options, but they can offer very distinct driving experiences. Find out which works better for your needs in our comprehensive Ram 1500 vs. Ram 2500 comparison.
Capability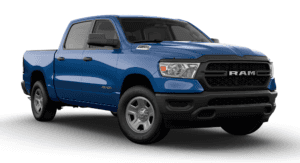 As the name suggests, the Ram 2500 is the stronger model, so you can expect to get a bit more capability out of it compared to the Ram 1500. That doesn't mean the 1500 is a pushover. In fact, the 1500's 12,750-pound towing capacity is the best V8 tow rating in its class. On the other hand, the 2500 can offer a 17,980-pound towing capacity with its diesel engine.
If you're looking to maximize payload capacity, you're going to have to sacrifice some towing capacity no matter which of these trucks you opt for. At best, the Ram 2500 can offer a 3,990-pound towing capacity while the Ram 1500 features a 2,300-pound towing capacity, which is about the difference you'd expect considering the sizes of these trucks.
Efficiency
While the Ram 2500 may shine in terms of towing power, the Ram 1500 is the more efficient truck by far. In fact, the new 1500 was specifically engineered with efficiency in mind featuring systems you won't find on any other pickup. The 2500 doesn't even come close to the 1500's drag coefficient, thanks to its sculpted roof design.
Additionally, you can get the class-exclusive air dam for your Ram 1500. This air dam hides behind your front bumper and automatically extends downwards 2.5 inches to help reduce drag as you approach highway speeds. If you want to take that even further, opt for the air suspension system. With this, your entire truck will be lowered, reducing drag to a greater degree.
Technology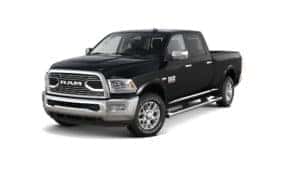 For the biggest and baddest truck, the Ram 2500 may be the clear answer. If you want some of the most advanced technology, however, the Ram 1500 is full of surprises. Take the infotainment touchscreen for example. The 2500's can be up to 8.4 inches, which is the largest in its class. On the other hand, the 1500's screen can be up to 12 inches.
On your instrumentation panel, you can also find the digital cluster display no matter which of these trucks you choose. The display is seven inches on each and can showcase all sorts of important information in high-definition, from turn-by-turn directions to music track information.
Ram 1500 vs Ram 2500 Verdict
After our extensive Ram 1500 vs. Ram 2500 comparison, the best model largely depends on your needs. For a fun drive with loads of features and unrivaled efficiency, the 1500 is your best bet. If you really need to max out your capability, however, the 2500 is the way to go. Fortunately, you can find both at Peake Chrysler Dodge Jeep Ram FIAT, your local Wayne County, Sodus, and Ontario dealer. Contact us to schedule your test drive today!