Used Car Dealer Canandaigua NY

After wandering around the numerous historical sites around Lake Canandaigua, you will want to hop in a reliable and durable vehicle with experience on the hilly terrain. Head on over to Peake Chrysler Dodge Jeep Ram FIAT, our used car dealer near Canandaigua, NY, to look at our fleet of used and certified pre-owned vehicles.
With our professional sales managers on site, you will find the perfect car that fits your wants and needs. Our showroom has a wide variety of sedans, SUVs, trucks, and more in different makes and models.
We also have a variety of services including finances, and mechanical repair and replacements. From the time you step foot onto our lot to well beyond the purchase of your used vehicle, our dealership will support you!
Exploring Canandaigua NY
When you're exploring upstate New York there are few places as beautiful as the city of Canandaigua. This community is situated along scenic Canandaigua Lake in the Finger Lakes region of New York. Whether you're taking a hike through the woods or you're enjoying an evening in town, this city has plenty to offer.
Spend the day at Sonnenberg Gardens & Mansion State Historic Park for a beautiful view of some historic architecture. When you need a bite to eat, pay a visit to Rheinblick German for some hearty cuisine. However, if you want to see the city of Canandaigua to the fullest, you need a used car from our dealership.
Our Inventory of Used Vehicles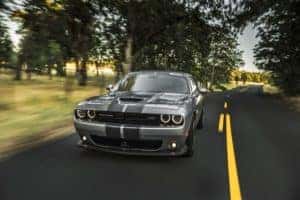 From Chrysler models to Jeep models, our used car dealer near Canandaigua will help you find the used car of your dreams. Our professional sales associates will help ensure your vehicle has all the amenities to fit you and your family's needs.
Take a look at our available used Dodge Charger models to find a high-performance sedan. This vehicle offers a robust powertrain along with a sporty interior so you can get the most out of your car when driving to work.
For those looking for a high-performance vehicle suited for adventure, our available Jeep Cherokee models are for you. This vehicle is built with wide space in the back and excellent off-roading capabilities. When you want to head out for a camping trip, this is the SUV to do it in.
Whether you're in search of a sedan, SUV, or truck, our inventory of used and certified pre-owned vehicles has an option for you. We offer a variety of features in each of our pre-owned vehicles from SiriusXM® Satellite Radio to keyless entry to 4-wheel drive and everything in between. You can count on our used vehicles to get you to and from where you need to be.
The Benefits of Buying a Used Car
Buying a used car is an excellent choice for any driver and no matter what you're looking for, you can find a used car that's right for you. Shopping for a used car opens you up to many possibilities on finding a car that's right for you so you're sure to be satisfied.
You may be able to get ahold of a great deal on a luxury vehicle when you shop for a used car. Perhaps you may even find a vehicle that isn't even being manufactured anymore. By looking for used cars, you are able to find better deals on a wider selection of cars.
Financing Your Used Car at our Dealership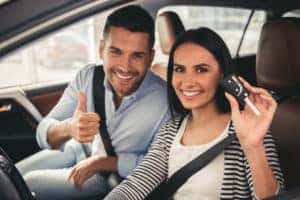 After choosing the used car that fits your preferences and needs, head on over to our finance center at our used car dealer near Canandaigua, NY! We have a group of financial managers who will assist you in finding a fair financing plan to fit your lifestyle and needs.
To get a head start on your financing, fill out the online application with the necessary information, and one of our financial managers will work on creating a personalized finance plan for you, keeping in mind your financial needs.
Our dealership also offers specials and incentives that you may be eligible for. Check online for what we are offering because our specials are always changing.
Maintaining Your Used Vehicle at Our Service Center
Even after you have left our lot with your used model, we continue to provide services to you and your car, like our service center at our used car dealer near Canandaigua, NY.
Whether your car is in need of a routine performance check or something more intricate like a battery replacement, our service technicians are certified and ready to help get your car to its like-new condition. We have an online scheduler where you can make an appointment with our service department at your convenience.
In a hurry, but need to get your oil changed? Our service center has an express lane where you don't need an appointment; you can pull up and have your levels checked, pieces replaced, and more. We will have you back on the road in a jiffy!
Our Available Official Equipment Manufacturer Parts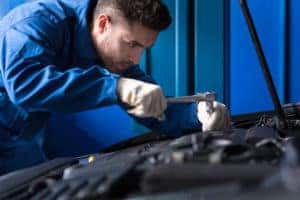 Are you interested in getting the most reliable parts available for your vehicle? Look into our available official equipment manufacturer (OEM) components next time you come in for maintenance. These reliable parts will keep your vehicle running at its best for years to come.
OEM parts are made by your vehicle manufacturer and are designed with your vehicle in mind. That's why they're able to work so well when installed into your model. With these parts in place, your vehicle will run better and last longer, so you can have some piece of mind.
Visit Our Used Car Dealer near Canandaigua NY
Whether you're toting your kids around to their various extracurricular activities or visiting a park in town, you should always end your day driving an experienced car that can handle whatever the road throws at it.
At Peake Chrysler Dodge Jeep Ram FIAT, our used car dealer near Canandaigua, NY, we offer you a selection of used and certified pre-owned vehicles that you can choose from that have all the amenities you could ever ask for.
Our dealership also has a finance center to help find the fairest option to cover your car, as well as a service center to keep your car in like-new condition. Call or visit our dealership today to schedule a test drive.